History of Affinity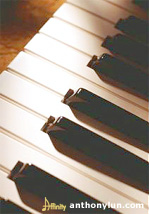 At the beginning of 1990, Anthony Lun international fan club was set up and the first gathering was held on 30th November 1991 at Royal Pacific Hotel in Hong Kong. Besides catching the time with Anthony, members were busy to social with others because this was the very first time for them to share their feeling with their affinity.
After Anthony released his first Japanese album - One Voice Ten Fingers in Japan in 1993, Japanese supporters even came to Hong Kong and applied for the membership of fan club. Anthony held his first concert in Japan and some supporters were so willing to attend. However, they could not get more information and they could not purchase the tickets, which were only for sale in Japan.
We noticed that Anthony is becoming an international artist and his supporters came all over the word. The fan club held function at Hong Kong only and overseas' members could not join and they were not easy to exchange information and feeling with others. Thus, Affinity was set up at July 1998 in order to help the overseas supporters to get more information about Anthony.
Due to the limitation of resources, the information of Affinity at the beginning was limited. With the support from Anthony Lun Taiwan Private Fan Club and the unofficial fan club at Japan - Tenderly Project, Affinity got more information. In July 1999, right after Anthony's Kansai concert, Affinity noticed the importance of set up an informative virtual communication for all supporters. We registered the domain "anthonylun.com" and started to plan the re-launch of Affinity.
After 2 years' preparation hard work and with the numerous support from Anthony Lun and Chi Tao Studio, the official Anthony Lun Internet Fan Club - Affinity was finally re-launched in summer 2001.
Affinity will keep update information and acts as the online library for Anthony Lun and provides a virtual community for fans around the world.